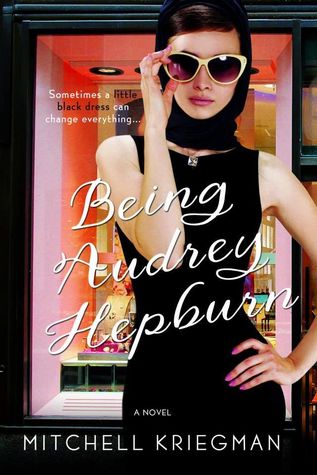 Title :
Being Audrey Hepurn
Writer : Mitchell Kriegman
Publisher : St. Martin's Press
Format : eARC, 344 pages
Source : NetGalley
Publishing date : 16th, September 2014
Language : English
Genre : YA, contemporary, woman fiction
Read on August, 8th 2014
My rating : 4 of 5


In Being Audrey Hepburn, Clarissa Explains It All-creator, Mitchell Kriegman, tells the story of a 19-year-old girl from Jersey who finds herself thrust into the world of socialites after being seen in Audrey Hepburn's dress from the film Breakfast at Tiffany's.
Lisbeth comes from a broken home in the land of tube tops, heavy eyeliner, frosted lip-gloss, juiceheads, hoop earrings and "the shore." She has a circle of friends who have dedicated their teenage lives to relieve the world of all its alcohol one drink at a time.
Obsessed with everything Audrey Hepburn, Lisbeth is transformed when she secretly tries on Audrey's iconic Givenchy. She becomes who she wants to be by pretending to be somebody she's not and living among the young and privileged Manhattan elite. Soon she's faced with choices that she would never imagine making – between who she's become and who she once was.
In the tradition of The Nanny Diaries and The Devil Wears Prada, this is a coming of age story that all begins with that little black dress…
"Diamonds aren't just a girl's best friend, they're a sparkling tonic for the soul, like summer rain, gazing at Milky Way, or snowflakes that land on your tounge." p.20
Audrey Hepburn adalah segalanya bagi Lisbeth, idola yang selalu ia puja, watak hingga tutur kata Audrey adalah pedoman hidupnya. Lisbeth mungkin hanya gadis usia 19 tahun yang hidup di daerah pinggiran New York, bekerja partime di kedai bobrok,
tinggal bersama dua saudara dan seorang Ibu pemabuk, dan masa depan yang abstrak. Hingga suatu hari kesempatan tak terduga datang padanya, berawal dari sebuah kecelakaan kecil menjadi kesempatan yang mengubah hidup. Melalui peristiwa yang ia alami, Lisbeth dengan pasti merangkai masa depannya dan tanpa disadari masa lalu keluarganya mulai terkuak.
"You know, Lisbeth, sometimes good things aren't always so great, and bad things often turn out to be good for you," she said. p.74
Di buku ini disuguhi banyak sekali hal-hal mengenai Audrey Hepburn, mulai dari cerita dibalik fenomenal black dress yang dikenakan Audrey Hepburn dalam Breakfast at Tifanny's, penggemar Audrey Hepburn mungkin pasti tahu tentang info detail yang diceritakan dalam buku ini tapi untuk yang bukan penggemar Audrey Hepburn cerita kecil ini bisa jadi info baru. Saya bisa mengatakan buku ini akan sangat menyenangkan dibaca baik penggemar atau pun bukan penggemar Audrey Hepburn. Cerita yang disampaikan ringan dan menarik, khas remaja. Namun, karakter Lisbeth layak untuk di apresiasi. Tidak banyak remaja yang tergoda dengan keglamoran dan cenderung ikut dalam arus yang negatif namun karakter Lisbeth disini tetap memiliki real vision,sehingga setiap keputusan yang ia ambil telah dipikir dengan cermat.
" 'a liar's mouth can be full of truth, but he's still a liar'. Be careful who you trust." p.165
credit : quotes.lifehack
"First-time novelist Kriegman (creator of Clarissa Explains It All) hits all the right notes for breezy escapist fiction." —Publishers Weekly.
"This is a fun romp: witty writing, passion and fashion, and oodles of Audrey. A perfect cure for the mean reds." —Booklist.
"For anyone who believes in the magical powers of the perfect dress, this is the book for you! Kriegman has created a delightful, mystical escape where readers can easily slip into the dress (and matching shoes!) of Manhattan's most elite. With a narrative voice fit for lovers of young adult and new adult fiction, and a fresh fun take on the beloved mistaken identity trope, Being Audrey Hepburn is sure to please a wide range of readers."—Julie Cross, international bestselling author of Tempest.
Big fan of Audrey Hepburn, and for all the inner fashionista in your soul who shy to grow.
It all started with that little black dress.
Yeah, I mean the little black dress-the wickedly fabulous, classic, fashion perfection Givenchy that Audrey Hepburn wore to brilliance in the opening scene of Breakfast at Tiffany's.
Right in front me was the dress dreams were made of.
"Let me try it on, please, please, please," I begged Jess.
"No way," she said. "I'll get fired."
Jess was already the special projects assistant at the Metropolitan Museum of Art in New York City, otherwise known as Met. It was kind of a glorified grunt and gofer position but a real foot in the was kind of glorified grunt and gofer position but a real foot in the door at the museum, and like me she was only nineteen. That was just one of her jobs. Jess attended fashion-design school all day, worked the Met at night, and waited tables with me at "the hole" on weekends.
Moon River

by

Audrey Hepburn
Happy reading fellas!