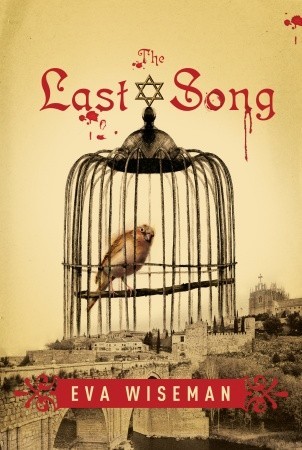 Title :
The Last Song
Writer : Eva Wiseman
Publisher : Tundra Books
Format : eARC, 240 pages
Source : NetGalley
Publishing date : 14th, October 2014
Language : English
Genre : Historical Fiction, Young Adult
Read on August, 26th 2014
My rating : 3.5 of 5


Spain had been one of the world's most tolerant societies for eight hundred years, but that way of life was wiped out by the Inquisition. Isabel's family feels safe from the terrors, torture, and burnings. After all, her father is a respected physician in the court of Ferdinand and Isabella. Isabel was raised as a Catholic and doesn't know that her family's Jewish roots may be a death sentence. When her father is arrested by Torquemada, the Grand Inquisitor, she makes a desperate plan to save his life – and her own.
Once again, master storyteller Eva Wiseman brings history to life in this riveting and tragic novel.
"Don't judge her harshly," Papa said. "Fear does strange things to people." p.185
Mengambil latar belakang Toledo, Spanyol antara September 1491 - Juli 1492, buku ini dengan ringkas menceritakan kisah yang terjadi di era itu. Yap, di Spanyol di tahun 1400an adalah masa Inkuisisi Spanyol, dimana gereja Katolik Roma mulai berkuasa, toleransi antar umat beragama tidak
lagi ditegakkan. Pemerintahan memaksa para penganut agama Yahudi dan Islam untuk beralih menganut kristen katolik. Jika tidak, mudah saja...
do it or die
. Di awal era inkuisisi, para penganut beragama masih di berikan toleransi, namun seiring berjalannya waktu tidak ada lagi toleransi beragama. Para penganut islam bisa tetap menganut agama mereka namun dijadikan budak, sedangkan para yahudi, sebagian beralih menganut kristen dan hidup dengan tenang, dan sebagian lagi
istiqomah
menjalankan kepercayaannya diam-diam.
credit : favim
Dalam buku ini menceritakan tentang kehidupan Isabel, anak dari tabib kenamaan kerajaan. Isabel menganggap hidupnya akan baik-baik saja, hingga akhirnya dia menyadari bahwa petualangan hidupnya baru saja dimulai ketika ia mengetahui bahwa keluarganya adalah penganut yahudi. Isabel sendiri, sejak lahir telah di baptis dan meyakini bahwa dirinya adalah seorang kristiani, namun kedua orang tuanya diam-diam masih mengikuti ajaran Yahudi. Beberapa ajaran tersebut adalah, keluarga mereka tidak makan babi, menyalakan lilin pada jumat malam sebelum matahari terbenam, mandi, memakai baju indah dan menyalakan lampu pada malam sabat. Melalui seorang pria yahudi yang ia kenal dan diam-diam ia cintai, Isabel mulai memahami ajaran yahudi secara sembunyi-sembunyi. Para yahudi mengatakan bahwa Isabel adalah seorang "Anusim, the forced ones" karena ia termasuk golongan orang yahudi yang dipaksakan untuk memeluk kristen. Keadaan makin memburuk, ketika gereja katolik Roma semakin gencar mengadakan pencarian para kaum yang menganut agama Yahudi diam-diam, terlebih lagi hukuman keras diberikan kepada penganut kristen yang secara diam-diam masih menganut yahudi.
A man called out, "The Almighty will save us!". "He will lead us to freedom! He will lead us to freedom!" the crowd began to chant. p.220
Karena buku ini adalah fiksi, meskipun latar tahun dan kejadian adalah sama seperti yang tercantum dalam sejarah, tokoh dalam cerita hanyalah fiksi, namun uniknya, tokoh Tomas de Torquemada, yang juga terkenal dalam sejarah memiliki twist yang unik di buku ini.
Dan opini saya sebagai seorang muslim, kisah para penganut yahudi dibuku ini memiliki taste yang berbeda untuk saya secara pribadi. Sebagai manusia, tentu saja kita tidak boleh menjudge seseorang dari agamanya, dan agama bukanlah paksaan. Seperti yang telah difirmankan oleh Allah dalam Q.S Al. Kafirun (109,ayat 6) : Unto you your religion, and unto me my religion.
"With spies and informers on all sides, the story builds to a gripping climax...readers will easily be caught by the young girl's personal heartbreak and conflict and will want to find out more." - Booklist.
"...a quickly paced, accessible introduction to a vicious era." - The Toronto Star.
For a reader who want to know at a glance history about what happen in Spanish Inquisition era.
Toledo, Spain
Friday, September 23, 1491
"What do you see? Is there a handsome stranger in my future?" The slave girl's fingers tightened around my hand, but she remained silent.
"Tell me what you see, Mara!"
The slave raise her head. Her dark eyes glimmered is her ebony face.
"Nothing, mistress. Nothing at all." She dropped my hand.
"Tell Dona Isabel her future!" my friend Brianda said sharply.
Reluctantly, the girl took my hand again. Her index finger traced the center crease running down my palm. She shuddered.
"Your life line is short, my lady," she stammered. "It means unhappiness and hard times in your future." A shiver ran down my back. "Tell me more."
Happy reading fellas!