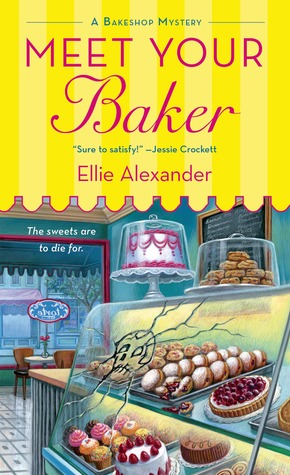 Title :
Meet Your Baker
Writer : Ellie Alexander
Publisher : St. Martin's Press
Format : eARC, 320 pages
Source : NetGalley, sent on behalf of publisher
Publishing date : 30th, December 2014
Language : English
Read on November, 25th 2014
My rating : 3.5 of 5


Welcome to Torte—a friendly, small-town family bake shop where the treats are so good that, sometimes, it's criminal…
After graduating from culinary school, Juliet Capshaw returns to her quaint hometown of Ashland, Oregon, to heal a broken heart and help her mom at the family bakery. The Oregon Shakespeare Festival is bringing in lots of tourists looking for some crumpets to go with their heroic couplets. But when one of Torte's customers turns up dead, there's much ado about murder…
The victim is Nancy Hudson, the festival's newest board member. A modern-day Lady Macbeth, Nancy has given more than a few actors and artists enough reasons to kill her…but still. The silver lining? Jules's high school sweetheart, Thomas, is the investigator on the case. His flirtations are as delicious as ever, and Jules can't help but want to have her cake and eat it too. But will she have her just desserts? Murder might be bad for business, but love is the sweetest treat of all…
"It's pretty stunning what people can or will do when they feel threatened. It's such a shame." p.235
When your marriage is suck and the best thing to do was back to your home town, and what you've got is murderer at your bake shop. This is what happened to Juliet, when she back to her sweet, small, and lovely hometown - Ashland, Oregon.
The small city full of kind people, the homeland of Oregon Shakespeare Festival. Whats coming next never expecting by Juliet, She thinks that everything going well after she left. But, what she found later made her think differently. Her mother bakeshop in financial crisis, her ex-boyfriend come to her life (again), and she unexpected found a dead body at her mother bake shop-Torte. Try to escape from what she left behind about her mariage, Jules trying to solve the mistery and help her mother bakeshop from financial crisis.
credit: author's twitter
"Make a decision based on where you're at, at this moment in time. The choice you make tomorrow might be different, but it doesn't matter." p.205
Since this is an upcoming book from a debut author, so im not familiar with the writing style. But, gladly to say that I enjoy the story from begin to an end. This is obviously belong to cozy mystery genre, because the story provide a very simply plot, not so hard to solve the mystery and the mystery its self not just the one point that makes a story enchanting, because there's also other thing that build up a character. Besides, i love the recipes that author give at the end of story. Its very easy if you want to make it at home.
"This debut culinary mystery is a light soufflé of a book (with recipes) that makes a perfect mix for fans of Jenna McKinley, Leslie Budewitz, or Jessica Beck." —Library Journal
"Alexander weaves a tasty tale of deceit, family ties, delicious pastries, and murder against a backdrop of Shakespeare and Oregon aflame. Meet Your Baker starts off a promising new series." ―Edith Maxwell, author of A Tine to Live, A Tine to Die
"With its likable characters, tightly plotted storyline, and innovative culinary tips, Meet Your Baker is sure to satisfy both dedicated foodies and ardent mystery lovers alike." ―Jessie Crockett, author of Drizzled with Death
who love mystery book with a pastry chef as heroine, and everyone who want to read mystery book and craving for delicious recipe.
Chapter One
They say it takes a while to recover your land legs after years spent at sea. I sure hoped mine would come back soon.
It had been twenty-seven hours and forty-two minutes (not that I was counting) since I left the ship, my husband, and everything I'd known for the last ten years.
Nothing felt solid. Not my feet on the familiar pavement of my hometown. Not my stomach with its constant churning like I was still stuck on rough waters. Not even the welcoming sight of the cozy shops and storefronts lining Main Street were enough to shake the haze that had settled over me.
I couldn't even blame the haze on the fact that it was 3:45 in the morning. Most people would have an excuse to feel groggy this early. Not me. I'm used to working bakers' hours, and I was fairly confident that the foggy feeling assaulting my body had more to do with my life having been turned upside down.
Not much had changed downtown in the past decade. I took my time walking to the bakeshop, in part because of my unsteady gait, but also because I wanted to soak in the idyllic village as it sat in an early slumber.
Ashland, Oregon, my hometown, is nestled in the foothills between the Cascade and Siskiyou Mountains. It's home to the world-famous Oregon Shakespeare Festival, an eclectic community of artists, outdoor adventure seekers, college students, farmers, hippies, rich retirees, and a constant stream of tourists. At nearly two thousand feet in elevation, its Mediterranean summers make it the perfect spot to watch Shakespeare under the stars or hike one of the nearby peaks. In the winter, Ashland attracts skiers and snow lovers to its nearby ski resorts and backcountry trails.
Growing up here made for a comfortable and imaginative childhood. Our family bakeshop, Torte, has served actors, playwrights, artists, students, and pretty much everyone else in town for thirty years. I remember the heat from the ovens warming my hands after school on cold winter afternoons, delivering cakes and pastries to the theater on opening night, and the comfort of chatting with my parents over the counter as they orchestrated an assembly line of baked goods in the kitchen. All this time away might have me idealizing my childhood, but honestly, it was pretty perfect.
It was an easy and quiet life. This morning I found myself wondering why I left.
Happy reading fellas!